Double Prawn Brand Herbal Oil
Double Prawn Brand Herbal Oil (双虾标青草油) is a TCM product made from the pure extract of herbal plants. A well-established product for more than 50 years, Herbal Oil provides immediate relief for pain, swelling, and itching due to cuts, abrasions, insect bites, and other skin problems.
Ingredients
Camphor, Peppermint Oil, Extract of Rhubarb and other ingredients.
Indications
For the relief of pain, swelling, and itching due to insect bites, fungal infection, sores, scabies, skin irritation, minor burns and scalds, minor cuts, abrasions, bruises, etc.
Directions
For stings, bites, and itching: Apply HERBAL OIL to the affected area several times a day until completely healed.
For pain and swelling due to minor cuts, injury, abrasions, minor burns, and scalds: Apply HERBAL OIL to the affected area using cotton wool as dressing; repeat until completely healed. Or immerse the injured part (e.g. finger) directly in HERBAL OIL for 10-30 minutes.
Caution
FOR EXTERNAL USE ONLY. AVOID CONTACT WITH EYES AND MUCOUS MEMBRANE. KEEP OUT OF REACH OF CHILDREN.
Storage
Store in a cool and dry place and avoid direct sunlight.
Packaging
14ml and 28ml in glass bottle.
Availability
Double Prawn Brand products are readily available in medical shops, pharmacies, and convenience stores.  More information >>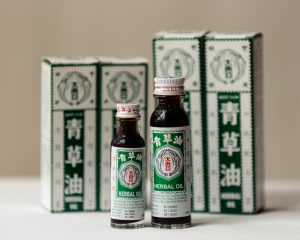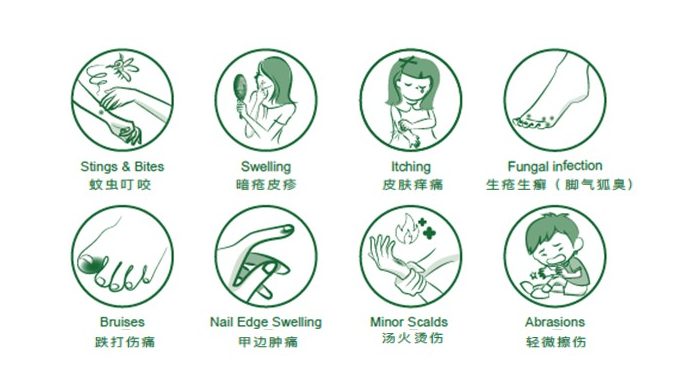 Important Notice
Double Prawn Herbal Oil's packaging may be different in different countries because of the need to conform to specific national requirements. Unfortunately, there are many imitation products in the market. Please check to make sure that you ask for Double Prawn Brand Herbal Oil manufactured by Tai Tong Ah Co Pte Ltd of Singapore.