Double Prawn Brand HuoLuo Oil
Double Prawn Brand HuoLuo Oil (双虾标祛风活络油) is a uniquely developed formulation, gentle to the skin with a pleasant fragrance. It contains natural essential oils that provide relief of muscle and joint aches, pains, tension associated with cramps, stiffness, and mild arthritis.
Ingredients:
Eucalyptus Oil, Citronella Oil, Camphor and other essential oils.
Indications:
For the relief of muscle pain, ache, soreness, mild joint aches and pains and symptoms of mild arthritis, reduce muscle tension, stiffness, cramps and mild joint stiffness.
Directions:
Apply Double Prawn Brand HuoLuo Oil to the affected area as needed. Massage gently until thoroughly absorbed to stimulate blood circulation and promote healing. Repeat as necessary.
Caution:
FOR EXTERNAL USE ONLY. KEEP OUT OF REACH OF CHILDREN. DO NOT USE ON EYES AND WOUNDS.
Storage:
Store in a cool and dry place and avoid direct sunlight.
Packaging:
50ml in glass bottle.
Availability
Double Prawn Brand products are readily available in medical shops, pharmacies, and convenience stores.  More information >>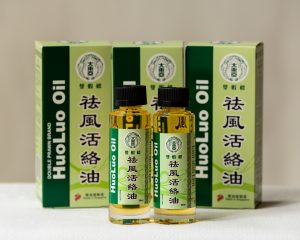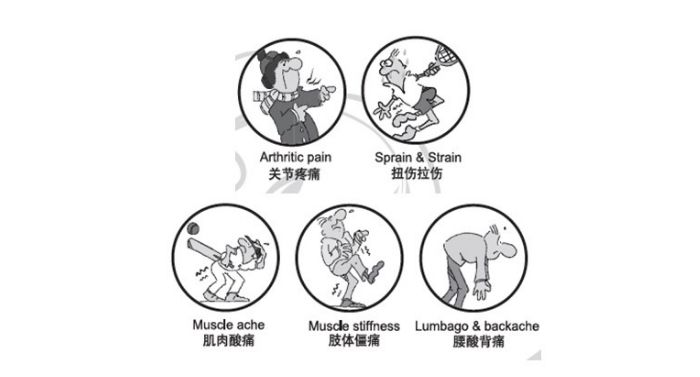 Important Notice:
Double Prawn HuoLuo Oil packaging may be different in different countries because of the need to conform to specific national requirements. Please check to make sure that you ask for Double Prawn Brand HuoLuo Oil manufactured by Tai Tong Ah Co Pte Ltd of Singapore.