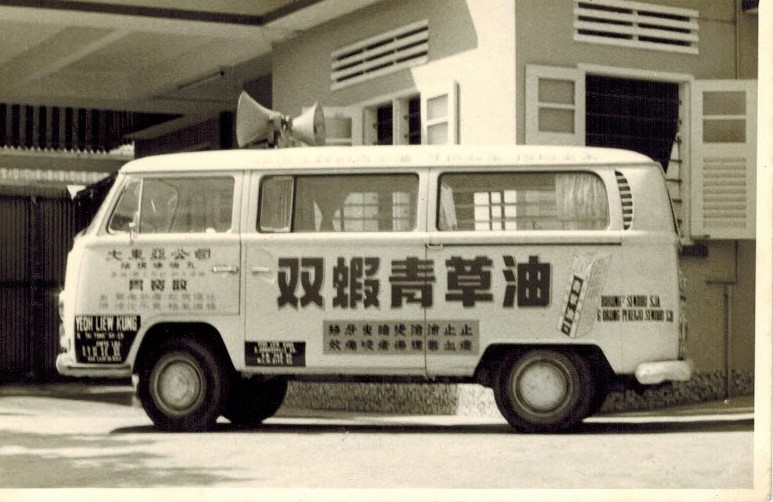 by Francis Yeoh
Ask anyone from Singapore's Pioneer or Merdeka Generation, and they would have fond memories of seeing this brightly painted Kombi van in their kampongs in the evenings, with its iconic speakers extolling the benefits of the Double Prawn Brand Herbal Oil in the sing-song Teochew dialect.
Once parked, the back of the van is lifted up to reveal a colourful shopfront, with various products displayed neatly in rows. Fifty cents (at that time, Singapore and Malaysia currency are on par) get you a small bottle of Herbal Oil, often together with a gift like a pen or a calendar (usually with a picture of a popular Hong Kong actress), plus profuse thanks announced over the loudspeakers to the entire village – kam sia, kam sia, kam sia…
For the rest of the day, you may see the same Kombi ferrying kids to school, picking up vegetables from the market, and delivering goods to Chinese medical halls. Occasionally during weekends, the versatile Kombi could be seen bringing excited children from church for a day of fun at the Botanic Gardens, Haw Par Villa or Siglap beach.
Local filmmaker Royston Tan featured the Kombi in 3688 (想入飛飛), his nostalgic tale set during Singapore's early post-independence years. Take a look here: https://bit.ly/3mnjfEO
Has your family ever owned a Kombi in the sixties or seventies? Do share your Kombi stories (and pictures!) to bring back memories of the colourful era in Singapore's growing up years as a young nation.