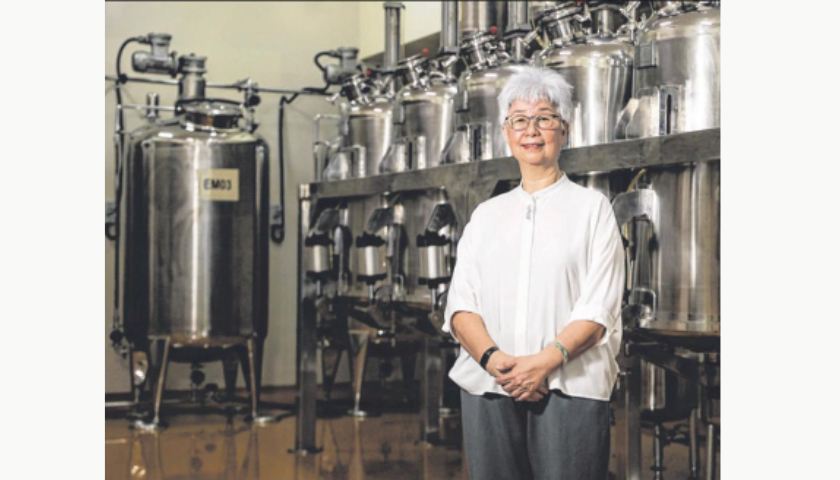 Traditional Chinese medicine businesses which have a long history carry the ancient wisdom of our ancestors that, when viewed from the lens of innovation, could spark profound insights. Whether in adopting new technology, combining traditional Chinese and Western medicine or launching new products targeting younger consumers—the three traditional Chinese medicine suppliers featured in this series have kept pace with the times in one way or another. They have introduced a breath of fresh air into the industry, and proven that tradition and innovation are not necessarily two opposing forces. Rather, they can coexist with one another and bring in new opportunities.
Some people may assume that innovation requires overturning tradition. However, Karol Tong Ka Hung (65), who helms Tai Tong Ah Company, the manufacturer of the Double Prawn Brand Herbal Oil, believes that one should never forget about the company's original purpose when catering to the modern-day market. To honour the faith and trust of their long-time customers, Tai Tong Ah continues to pass down the ancestral wisdom while pursuing new ideas and goals.
Widely known for its white and green packaging, the Double Prawn Brand Herbal Oil carries the memories of multiple generations. It was created by Yeoh Liew Kung, the late founder of Tai Tong Ah, based on a secret ancestral prescription. He came up with the double-prawn logo, which signifies vitality and agility. The perfectly symmetrical prawns make a balanced and pleasing logo.
In the 1930s, Yeoh travelled south from China to Singapore and made a living by playing erhu for a Teochew opera troupe. A business-minded man, he started producing homemade Chinese medicated oil during his spare time and sold it to the audience. The product was for the treatment of mosquito bites, cuts, bruises and skin diseases. Seeing the increasing popularity of the product, he registered a company in 1978 and rented a factory to carry out manufacturing.
Yeoh, who fathered nine children, managed everything by himself and continued studying traditional Chinese medicine well into his nineties. He passed away in 2004 at the age of 92 without a successor to take over the company. Thinking that it was a pity to give up on the family business after years of hard work, his family decided to bring someone from within the family to manage the company.
Karol Tong Ka Hung is Yeoh's daughter-in-law; she previously worked as an engineer in the Public Utilities Board. "Back then, Mr Yeoh's other children either had their own careers or were in their sixties and had retired. In order to develop and grow, the business had to be managed professionally, so I resigned from my old job and joined the company," she said.
When asked how she transformed the business, she answered with a smile that Tai Tong Ah had simply evolved over time. "My first milestone after joining the company was to relocate the factory to Tai Seng Industrial Park. We set up the factory in less than a year and obtained the Good Manufacturing Practice (GMP) certification in 2008. We also introduced automation into the manufacturing process, which greatly increased productivity."
Over 90% of production is now automated
Tai Tong Ah's old factory was located in Pasir Panjang. More than 80% of the bottling and packaging process relied on human labour. In contrast, not only does the new facility employ extensive automation, but it also utilises modern technology in the herbal extraction process to reduce the time required to manufacture a batch of oil from two months to three weeks. Presently, more than 90% of the factory production is automated.
Another breakthrough is in the improved bottle design. With the old design, the opening of the bottle was sealed with a transparent plastic stopper and an metal cap. This was a labour-intensive process. The new design omits the plastic stoppers, and the modified bottle opening has a small hole for easy capping.
Sometimes, crises bring new opportunities. Tai Tong Ah was greatly impacted during the Covid-19 pandemic, with production plummeting by 50% in 2020. This forced the company to consider developing new products and think deeply about expanding its market.
Tong said, "We found that young people are reluctant to use traditional Chinese medicated oil in public because the distinct smell of such products is associated with the elderly. We decided therefore, to develop a new medicated oil product with light and pleasing fragrances, while maintaining its restorative benefits. The new product is targeted at young people who lead a busy life."
The company has partnered with local perfume and fragrance manufacturer, Senses International, to launch a series of products that combine traditional medicated oil formulation with natural essential oils. This product research and development project received funding support from Enterprise Singapore.
The new product range was launched in April this year under the brand YnL. A rollerball is installed at the opening of the bottle, allowing users to pour and apply the oil conveniently. The company adopts modern innovative marketing approaches, such as promoting the product through social media and influencers. Tai Tong Ah also sponsors YnL products for university orientation events and arts performances to change the public's perception of medicated oils.
As for whether Tai Tong Ah would consider changing the traditional packaging of their Herbal Oil for a trendier design, Tong said, "If we change the packaging completely to cater to the younger generation, it will no longer be recognisable. Some young people find the original packaging nostalgic with a retro style. We will make minor changes to keep the design clean and minimalist, but we will preserve the recognisable features."
Some customers have commented/reflected that the herbal oil in a bottle is inconvenient to use. Furthermore, the dark-coloured oil could stain their clothes. Tong explained that the colour is not from a dye, but from rhubarb, the main natural herbal ingredient of the product.
Exploring different dosage forms: ointment, cream or spray
Tong said, "There is much room for improvement when it comes to how we use the Herbal Oil. We are currently considering to produce it in other dosage forms, such as ointment, cream or spray. If there is a breakthrough, we will gain greater flexibility in terms of changes we can make to the product packaging and usage to meet the needs of the younger generation."
She emphasised that while the company is eager to launch new products, it never forgets its original purpose. Tai Tong Ah has to maintain the trust and faith their customers have placed in them over the years, and they must never compromise on product quality and efficacy.
The biggest challenge faced by traditional Chinese medicine suppliers is to comply with the regulatory requirements of local and overseas health authorities. Tong pointed out that product registration procedures are long and costly. The investment cost is also high. In Hong Kong, for example, it costs $45,000 to conduct a four-year stability test on Herbal Oil alone, not to mention other tests for safety, quality specification and validation. Fortunately, Tai Tong Ah received funding support from Enterprise Singapore, which defrayed the costs of product research and development, brand marketing, and various tests.
Over 60% of revenue comes from overseas markets
Tong is aware that traditional Chinese medicine manufacturers, like other local companies, must expand their business abroad to scale up. More than 60% of Tai Tong Ah's revenue comes from overseas. Its two main products—Herbal Oil and Rumagon liniment—have entered the market in most of ASEAN, Hong Kong, China, Australia, New Zealand and the United States. Among them, Singapore, Hong Kong and Malaysia have the largest customer base.
Throughout her journey, Tong has gained some insights about innovation. "I often tell people that innovation sounds like a big concept, but it doesn't have to be earth-shattering breakthroughs. Even a small step counts as an innovation. To us, that includes creating a new formulation or even new packaging for our products."
From the Chinese opera stage to the international platform, Tai Tong Ah has come so far thanks to its leaders' courage to try something new while drawing on ancestral wisdom. At the same time, it recognises the need to evolve with the changing times. This is how Tai Tong Ah stays flexible and agile in moments of crises, like the prawns on its logo and packaging.
Photo and article source:
Lianhe Zaobao 联合早报, 2022-10-20
Link